Writing Workshops to Get Inspired!
Since my stranger danger picture book You Don't Know Me? was published in 1981 I have spoken to children of all ages about writers and writing. These sessions, ranging from brief talks on how writers work to workshops on a variety of writing themes and in-school residencies, have been enthusiastically received by students and teachers.
Many years of writing fiction and poetry for children and adults combined with my extensive experience as a journalist and editor allows me to offer students an insight into what it is to be a working writer. Sessions are tailored to individual requirements and my approach is relaxed and informal, with a focus on inspiration and encouragement.
The Australian Society of Authors recommended rates of pay can be viewed here.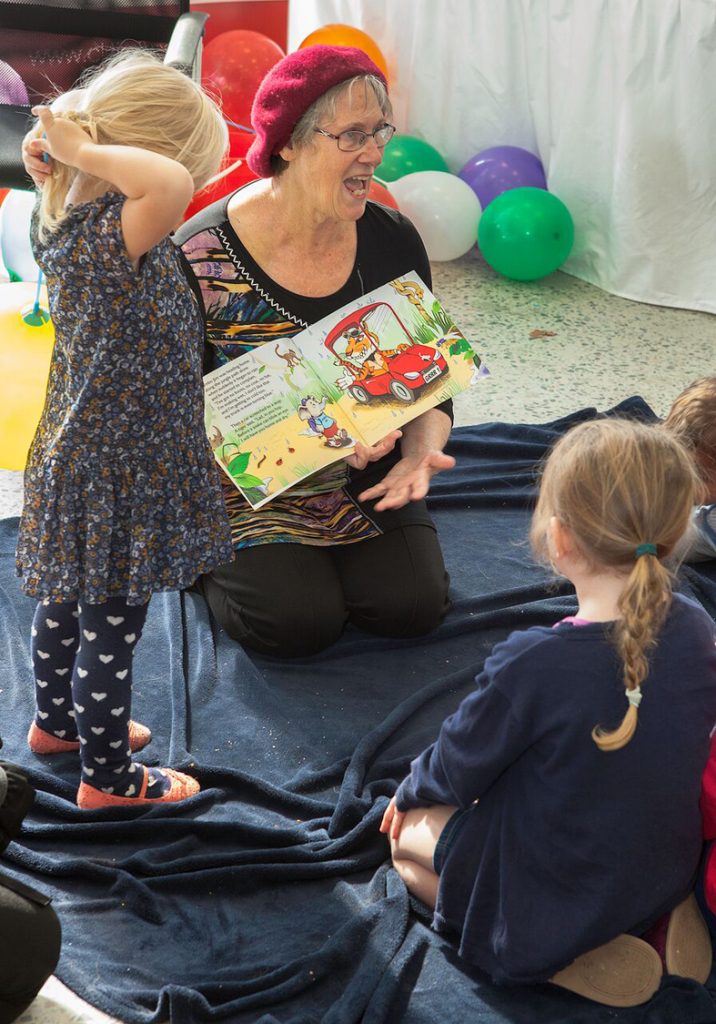 Meet the Author: These informal, interactive writing workshops look at where writers get ideas and the writing process from first draft to submission for publication. I share some insights into my writing journey and include question time and a simple group activity to show how easy it can be to come up with a story idea.
Character Capers (3-5 years):  Have fun creating a playtime adventure for a menagerie of cute finger puppets and find out how writers get ideas for their stories.
You Can Be a Writer (5-7 years): The focus of this writing workshop is based on the picture book of the same name is on where writers get their ideas and how they turn them into published books. Junior primary age children can discover how easy it is for them to be a writer too.
Be a Super Story Sleuth (7-9 years): A fun session for middle to upper primary students to consider what writers have in common with detectives and put their own story sleuth skills to the test. Participants find out if they have what it takes to snoop out story ideas, find the clues to create interesting characters, investigate writing crimes and solve the mystery of what makes a great story.
A Sense of Story: This hands-on writing workshop for upper primary students has a focus on the five senses and I use a selection of items to encourage children to think about how they use sight, sound, smell, taste and touch as part of their everyday experience. They are then asked to consider how they can use the five senses to bring their writing alive for the reader.
Poets & Prospectors Writing Workshops for older children look at what poets and prospectors have in common and the tools they use to source their raw materials. A five senses activity is included, along with a chance to "Choose your tools" from my treasure chest of objects and fabrics.
Word Play Workshops (8-12 years): Play simple language games such as Silly Similes, Mad Metaphors and Vile Verbs to explore the creative use of words. Look at the way writers tap into their inner selves and reach out to the world around them to source and develop their ideas for stories. Take part in a group activity to create a series of characters and suggest possible story lines around them. Be the storyteller and choose from my  'treasure box' selection of pictures, interesting objects and fabrics to inspire your own piece of prose fiction or poetry.
Teacher Feedback on Writing Workshops
Jaqueline Secrett
Port Hedland PS Year 4
Very informative. Teena's talk evoked a lot of discussion about writing. It was great to see the students using their imaginations and having the opportunity to create their own text.
Emma Coad
St Cecilia's Catholic Primary Years 5-7
Teena gave strategies for the children to use to help with ideas for writing.
Mandy Sheen
St Cecilias PS Years 1-3
Teena was very informative, answered all students asked by students and the presentation was aimed at student level.
Carolyn Garratt
Pannawonica PS Year 1
Excellent session. Loved how you engaged ALL the students.
Mrs Walker
Bluff Point PS Years 4 & 5
A great way to express the writing process. Students enjoyed hearing the stories and how to go about writing a story.
B Williamson
Chapman Valley PS Years 3-6
Teena has great rapport with students. Love the free-flowing dialogue with kids.
Peta Asplin
Nullagine RCS Years K-3
Kids were engaged in the workshop, sharing ideas and wanting to be involved in writing their story.
Tamra Quadrio
Paraburdoo PS Years 1 & 2
A very informative presentation which took the students through the process of writing a story. Students were all highly engaged and enjoyed learning how a story is made.